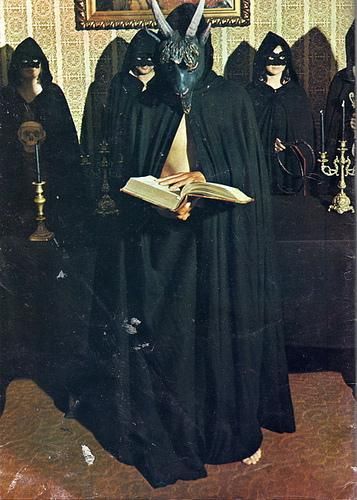 (Masks are the hallmark of Satanism. Occult means "hidden.")
When healthy people are treated like 
we have a deadly contagion, 
the real message is,
in the eyes of the Illuminati,
we are the deadly disease. 
The civil war is between
the Illuminati/ people 
who go along with this treatment, 
and those who do not.
by Henry Makow PhD
When I arrived at the dentist's office yesterday, the receptionist motioned me over to a table where she ritualistically administered a hand sanitizer.
Then, a questionnaire where I attested that I was not showing symptoms of a deadly virus; had not been out of province for 14 days, and had not had contact with COVID cases.
Then, she took my temperature and administered a blood test.
After determining I was not sick, she handed me a facemask to wear in the waiting room.
When I took it off, she insisted I put it back on.
I refused, saying there is no mandatory mask order in Manitoba.
She said it was for the safety of the people working there. If I wouldn't wear it, I'd have to leave.
The absurdity of this situation was mind-boggling. She had just determined that I am healthy yet I still must wear a mask.
I left. I do not want to engage with people who have zero respect for their clients.
They didn't mention that face masks are mandatory when they called Thursday to remind me of my appointment. They just assumed they could force one on me.
Obviously this is not about health. This is about control and conformity. A medical hoax has been used to justify a political tyranny.
You quarantine the sick, not the healthy. Why don't more people question this?
When healthy people must act like they have a deadly contagion, the message is clear. In the eyes of the Illuminati, we are the disease.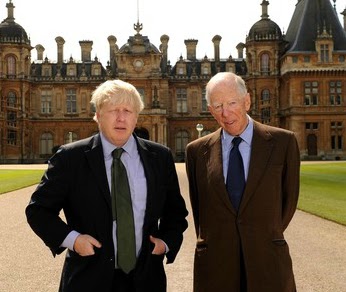 ("We own the planet. You're being evicted.")
Although these Satanists and perverts own 90% of everything, we are "useless eaters" using up too many of their resources (i.e. "climate change.") They have grown weary with wealth. Now they want power. They want it all and only enough of us left to serve their needs.
"LICENSED TO KILL"
Vaccines are a misnomer. They are pesticides.  Have you had your COVID pesticide yet?
So instead of having my teeth fixed, I went to the mall.
Society is already cleaving in two. Fifty percent of the faces coming toward me were covered and 50% were not.
The coming civil war will be played out over the issue of vaccines: are they panacea or pesticide?
Conformists versus non-conformists. The satanic cult that controls the world plans to exclude non-conformists. This is clear from the fact that corporations are rejecting half their potential customers and passively accepted a pandemic hoax that has destroyed many sectors of the economy.
Are they starting a cull? Come flue season, are they going to unleash a stronger second wave?
A SATANIC CULT IS ALL ABOUT CONTROLLING PEOPLE
A satanic cult exploits and controls its members by making them sick.
People who refuse to conform will be ostracized and persecuted. Already, I am denied dentistry because I refuse to act like I am a disease.
The #covidscam is the means by which the Illuminati are upping the ante -inducting the human race into Satanism. First the mask, then the vaccine, then the passport. Non-conformists will be excluded in the same way as they are in China.
MASKS
Satanism dehumanizes us by destroying our family, race, national and religious identity. Now they are MAKING US COVER OUR FACES for no good reason. How degrading is that?
There is talk that pesticides, apart from killing us, will contain nanochips that will turn us into automatons.
In conclusion, a civil war is starting between conformists and non-conformists, Satanists and believers in God's Purpose for man, and between Communists (Antifa), and anti-Communists.
This ancient conflict is coming to a climax in our time. Satan is showing his face.
———
Related -The war has begun!
First Comment from AA-
Well, after reading your latest article, I just felt compelled to write and share my experiences over here in good ole merry England.
I don't wear the mask, Henry!!! I refuse too!!!. Thank God for some half-decent food supermarkets. They went public stating that they would not police customers who refused to wear the mask whilst doing their shopping!!! Bravo, you guys
. I normally shop in these large brand food stores but I have made it a promise to shop there all the time. I never wear a mask – no staff member, any security guard, and no customer has given me the slightest bit of provocation. Thank you, Lord.
Sometimes, I feel guilty and will just try it on for the sake of it, but literally, after just a few minutes, I feel like I am choking myself to death with the wretched mask. My glasses get steamed up when the hot exhaled CO2 remains trapped in my mask, I can never read the flamin instructions on the food labels!! Yet over here, Henry, I am tragically part of an insignificant minority. Everyone and I mean 98% of people are donning these abominations on their faces!!!!. Just from a practical viewpoint, how do they manage to keep it on for so long???
I'm on a social neighborhood app and members chat all things community, so I took a shot at the idiocy of wearing masks – I was told to stop being a crybaby!!!!! I didn't bother chatting any further.
Everyone is believing the government here, my friends, family, work colleagues – wear the mask, you irresponsible selfish git!!!! I'm left dumbfounded. But at least Henry I can always take solace in the fact that when I go to get my eggs and bread, I can breathe the fresh air and smile at everyone whilst they choose to cover their faces with that wretched thing called a mask.
South African (appeared first on thetruthseeker.co.uk) wrote:
This is a brilliant article and Henry is quite right! BUT….I live in South Africa, and we are still under one of the heaviest lockdowns on earth! The sale of alcohol and tobacco products has been banned since March. We can not use public transport, enter any public space ( Malls, supermarkets, doctor's rooms, any kind of shop) without wearing a mask. Many of us are against it…but if I don't wear my mask while doing our necessary shopping, I won't be allowed into the stores.
And if you want to see a dentist… you have to have a "plague" test and be negative. And the dentist wears a full biohazard hazmat suit when working on a patient. The same holds true for any kind of hospital admission.
 One is left in ER until your test is negative. This whole scamdemic is driving us all nuts with many legal battles from the Tobacco Industry and Alcohol Industries trying to get the bans declared unconstitutional.
But it's an unwinnable battle. So for us it is wearing the mask or starve. We seem to be the world's test laboratory to see how much TPTB can get away with. I'm so tired of sanitizer at every turn I now wear gloves so the crap stays on the gloves.
When this "pesticide" is ready I suppose I'm done for because I will refuse to have it. I will go to the grave victorious over the NWO.
==============
=============
Found online
ALERT !!! IMPORTANT !!
Nina Hadges
"Ready for the rabbit hole that connects all rabbit holes?
CHECK THIS OUT:
As many of you heard Moderna is in the 3rd and final stage of their vaccine development.
Here's something many of you don't know, guess who the first CEO of Moderna was?
A Cornell graduate by the name of Anthony Fauci, who was a roommate with none other than Bill Gates.
Are you paying attention?
It was at Cornell that Bill Gates designed the RFID (Radio-frequency identification) and patened it under US2006257852.
Are you awake yet?
Now let's really go down the rabbit hole.
Moderna was a pharmaceutical company that started in Germany under the name IG Farben.
IG Farben is infamous for it's mass production of Zyklon-B, the primary gas used to kill people during WW2 in concentration camps.
After Germany fell, IG Farben was dissolved and its assets sold off by a Nazi turned American by the name of, you guessed it, George Soros.
Soros rebranded the company as Moderna.
And who was the primary stockholder of Moderna until his death? …… Jeffrey Epstein.
His role in Moderna is where he made his fortune and established his connections. Let that sink in.
WAKE T…F…K UP PEOPLE !!!!
You are being conditioned and controlled. Please copy and paste this, I did!"