AMERYKAŃSCY PRAWNICY WALCZĄ PRZED SĄDEM O ZWOLNIENIE OBYWATELI Z OBOWIĄZKU SZCZEPIEŃ
Dwaj amerykańscy prawnicy, adwokat Greg Glaser i Ray Flores, postanowili wypowiedzieć "wojnę" przemysłowi szczepionkowemu i zawalczyć o wolność wszystkich obywateli. Jeśli ich plan się powiedzie, wszyscy Amerykanie będą mieli prawo do świadomej odmowy przyjęcia przymusowych szczepień, bez względu na przyczynę.
Walka przed sądem
Co prawda, Amerykanie są już chronieni na mocy Konstytucji przed nieprzewidywalną inwazją rządu na ich autonomię cielesną, ale to nie zmienia faktu, że dwóch prawników postanowiło zawalczyć o jeszcze jedno potwierdzenie swobód obywatelskich i to w konkretnym kontekście – szczepionek.
22 lutego 2021 roku adwokaci Glaser i Flores wystąpią w sądzie federalnym z pozwem o wydanie orzeczenia sądowego uznającego prawdziwą rolę, jaką odgrywają szczepionki w ochronie zdrowia dzieci, utrzymującego, że badania grup kontrolnych zaszczepionych vs. niezaszczepionych są naukowo korzystne i zwalniającego wszystkie osoby z obowiązku szczepień.
Prawnicy chcą, by sąd stanął po stronie prawdy, a nie bełkotu, którym przemysł farmaceutyczny karmi opinię publiczną.
Chcą także zapewnienia każdemu obywatelowi wolności i możliwości samodzielnego decydowania (bez konieczności podawania argumentów) o przyjęciu lub odmowie szczepienia.
Wszystkie szczepionki są niebezpieczne
W pozwie prawnicy popierają swoje żądania wieloma argumentami zaczerpniętymi z badań.
Jeden z nich pokazuje, że niezaszczepione osoby dorosłe cieszą się o 1248% lepszym zdrowiem niż zaszczepione osoby dorosłe.
Podobnie, nieszczepione dzieci cieszą się o 1099% lepszym zdrowiem niż dzieci zaszczepione.
Podkreślono również fakt, że szczepionki po prostu nie spełniają twierdzeń, które się do nich odnoszą, zarówno pod względem bezpieczeństwa, jak i skuteczności.
Porównanie danych z badania pilotażowego 2020 r. dostarcza liczbowego dowodu, że szczepionki "powodują wykładniczy wzrost ryzyka chorób przewlekłych w Ameryce".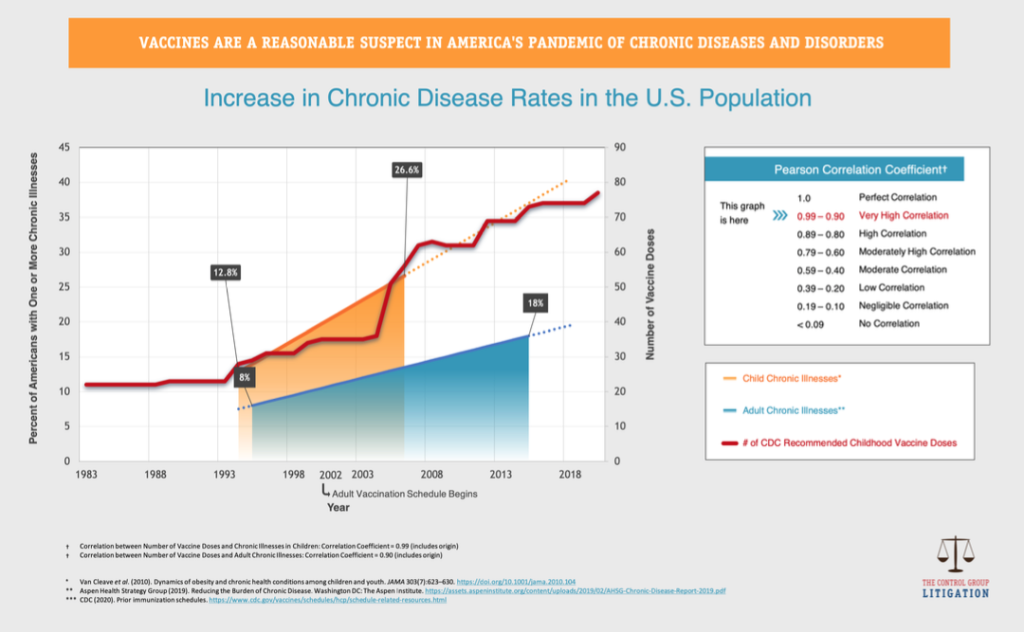 Po prostu nie można zaprzeczyć, na podstawie dostępnych dowodów, że ludzie niezaszczepieni są zdrowsi niż osoby zaszczepione.
Szczepionki zawierają prawnie sklasyfikowane neurotoksyny w ilościach, których bezpieczeństwo nigdy nie zostało udowodnione. Szczepionki są eksperymentalne, ponieważ nigdy nie stosowały naukowej metody testowania z prawdziwym placebo lub grupą kontrolną w ogóle niezaszczepionych osób – wyjaśniono w części pozwu.
Z kolei wykres obrazujący wskaźniki chorób przewlekłych na przestrzeni lat, przedstawia gwałtowny wzrost w czasie, gdy rządowy program szczepień zaczął się naprawdę rozwijać.
Wprowadzenie harmonogramu szczepień dla dorosłych spowodowało również gwałtowny wzrost przewlekłych chorób rozpoczynających się w wieku dorosłym.
Z definicji wszystkie szczepionki są eksperymentalne, ponieważ żadna z nich nie została odpowiednio przetestowana pod kątem bezpieczeństwa i nikt nie może z całą pewnością powiedzieć, jak każda osoba na nie zareaguje.
Wszystkie zezwolenia dotyczące szczepionek są poparte:
Fałszywym placebo ("placebo", które zawierają neurotoksyny).
Fałszywymi kontrolami (tak zwane kontrole osób, które są również zaszczepione na inne choroby).
Krótkoterminowe testy ( "testy" z okresami monitorowania tak krótkimi jak 3 dni).
Długoterminowy bierny nadzór nad obrażeniami wywołanymi szczepionkami (niby "nadzór" z nieznanym, około 99% wskaźnikiem niepowodzeń w raportowaniu).
Adwokaci uważają, że nie możemy tutaj mówić o żadnym bezpieczeństwie, ponieważ nauka o szczepionkach nie rozwinęła się nawet na tyle, aby mieć uzasadnienie w podstawowej, słownikowej definicji słów, do których się odnosi.
Inną rzeczą wartą rozważenia jest fakt, że wiele szczepionek pochodzi obecnie z komunistycznych Chin.
Glaser i Flores ostrzegają, że te komunistyczne chińskie szczepionki "przeniknęły do ​​Stanów Zjednoczonych" i stanowią obecnie ponad 50% światowego rynku substancji czynnych.
To nie brzmi dobrze…
Pozew zawiera wiele danych i informacji wskazujących, że szczepionki są niebezpieczne i nie działają zgodnie z twierdzeniami publikowanymi przez polityków i media głównego nurtu.
Dlatego amerykańscy prawnicy nie zamierzają się poddawać i zapowiadają, że będą walczyć o ujawnienie tak długo ukrywanej prawdy.
⇒ Czytaj także: PRAWNICY PRZYGOTOWUJĄ SIĘ DO POZWANIA WHO ZA "COVIDOWE ZBRODNIE PRZECIWKO LUDZKOŚCI"
==========
Zrodlo: https://www.odkrywamyzakryte.com/prawnicy-walcza-o-zwolnienie-z-obowiazku-szczepien/