The World Jewish Congress (WJC), which calls itself "The Representative Body of over 100 Jewish Communities Worldwide," held its annual gala at the Pierre hotel in New York City on Nov. 6.
It bestowed its annual Theodor Herzl Award (named after Israel's founding father) on former U.S. Ambassador to the UN Nikki Haley for her work on behalf of Israel. Some previous awardees have been Joe Biden and Henry Kissinger.
One of the WJC's main issues is support for Israel. Among its many activities in this realm, it collaborates with the Israeli government to defend Israel from criticisms of its human rights abuses and discriminatory system.
The WJC defines many factual statements about Israel to be "antisemitic," and labels legitimate opposition to Israeli violence and oppression against Palestinians "antisemitism." As a result, its top issue, combating "antisemitism," often consists of efforts to suppress information about Israel's oppression of Palestinians and to combat efforts on behalf of Palestinian human rights.
At one of its recent international conferences to oppose this newly defined "antisemitism," US Special Envoy Elan Carr proclaimed that every law enforcement office and every prosecutorial agency throughout the world must "force everybody who has even a hint of antisemitism to undergo a tolerance program." 
The Jewish Voice described the recent World Jewish Congress gala in New York:
"It's 6 PM on Wednesday November 6th in New York City and dozens of Secret Service are gathered at the Pierre to protect billionaires, politicians and global influencers at one of the premier evenings of the year."
JV reports that "the illustrious guest list was unparalleled," and provides a lineup that represents extraordinary wealth and power (and, in a number of cases, diverse types of malfeasance).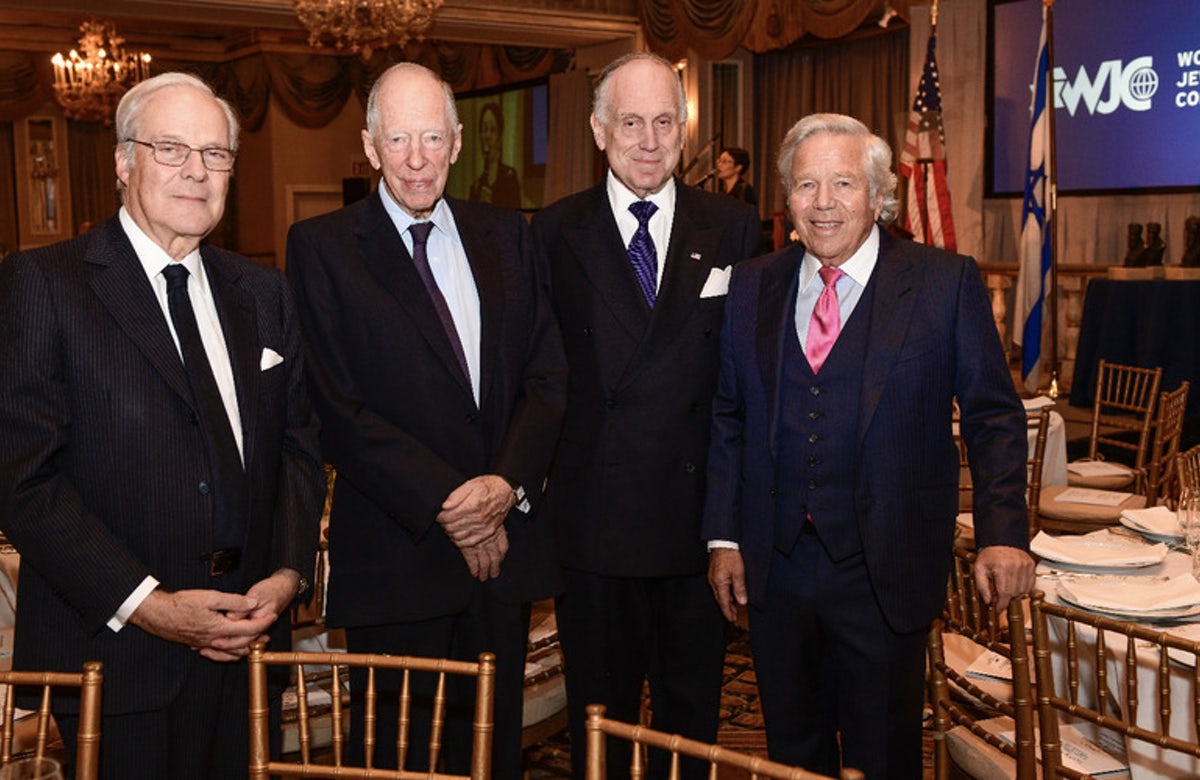 Baron David de Rothschild, Lord Jacob Rothschild, Ronald Lauder, Robert Kraft at WJC Gala Nov 6, 2019.

JV provided the names of some of the guests, to which are appended their net worths when available (these fluctuate over time) and additional information:
OLIGARCHS FROM RUSSIA AND UKRAINE
JV does not name the other oligarchs who attended the gala, but a few of the Russian and Ukrainian oligarchs connected to the WJC are:
* Boris Lozhkin – a WJC vice president (net worth appears to be about $450-500 million, President of the Jewish Confederation of Ukraine, on the board of the EAJC, Lozhkin has been accused of corruption in Ukraine, fired as chief economic advisor to the president of Ukraine last year after allegations of fraudulent financial transactions involving millions of dollars came to light)
* Andrey Adamovsky – WJC vice president (Ukrainian businessman, vice-president of the Jewish Confederation of Ukraine, in 2015 was found guilty of defrauding his former business partners of $34.7 million, and in 2016 he was again found guilty of fraud)
* Michael Mirilashvili – on the WJC Steering Committee (Mirilashvili, net worth $3 billion, has been embroiled in various charges of corruption)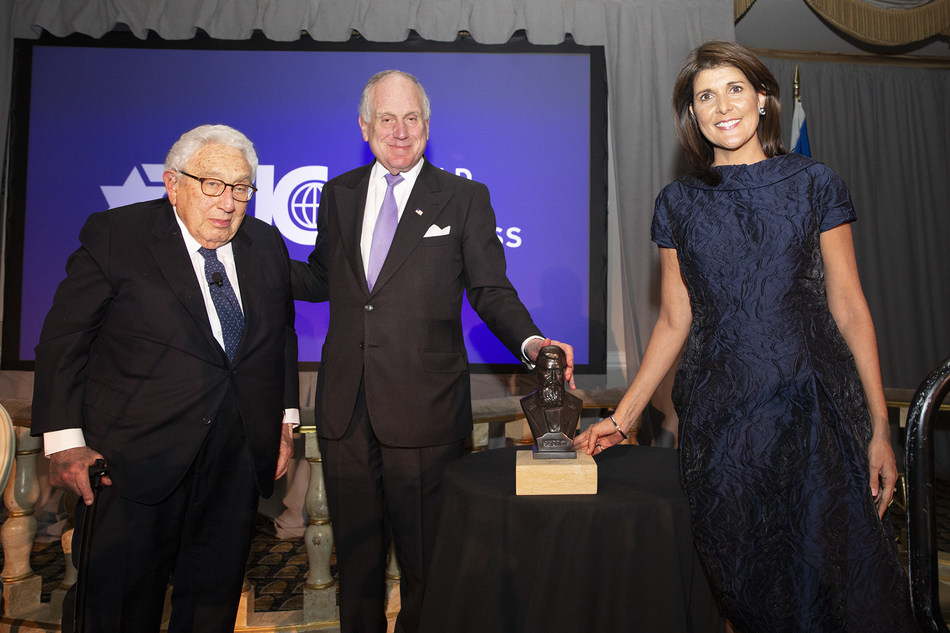 Left- Lauder, Haley, Kissinger (Epstein worked for Lauder) 
The longtime president of the WJC is multi-billionaire Ronald Lauder, an heir of the Estée Lauder cosmetics company. At the age of 37 Lauder, a Republican fundraiser sought and succeeded in obtaining a position in the Defense Department (Deputy Assistant Secretary for European and NATO affairs), and then an ambassadorship.
Lauder kicked off the gala's speeches by decrying "the rise in antisemitism," giving as an example Bernie Sanders' recent statements calling the situation in Gaza "inhumane" and declaring that some of the $3.8 billion annual U.S. aid to Israel should go to Gaza instead.
Sanders' speech was a reference to the fact that Israel has made Gaza into "the world's largest open air prison." A Norwegian NGO reports: "More than 50 years of occupation and 10 years of the blockade have made the lives of 1.9 million Palestinians living inside the Gaza Strip unbearable. That is why they now are protesting and risking their lives." (Despite these and previous strong criticisms of Israeli actions, Sanders continues to say he is a supporter of Israel.)
In contrast to Lauder's condemnation of Sanders, he lavished praise on this year's WJC Herzl awardee, former U.S. Ambassador to the UN Nikki Haley.
===============
https://www.henrymakow.com/2019/11/putting-a-face-on-the-illumkinati.html