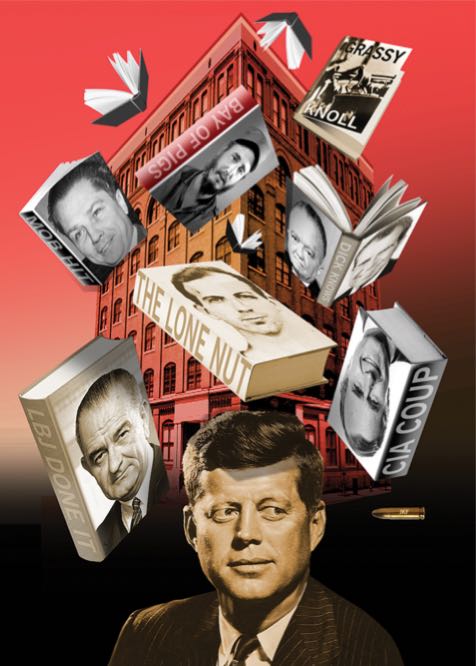 Tap on Hoover's phone indicates that the men
behind the shooters were J. Edgar Hoover, Alan Dulles, LBJ,
and G.H.W. Bush. But who was behind these men?
The Illuminati central bank cartel?
Fleshing Out Skull & Bones p. 194 By Kris Millegan
(henrymakow.com) 
One of the most effective tactics employed by the JFK assassination was to "muddy the waters" by bringing in as many "suspicious" individuals as possible into the assassination arena, even having different reasons for each person's p[resence — if there were a covert reason for being in Dallas on November 22, 1963, all the better. Scores of people were engaged in varied peripheral plots and sub-plots, many of which were related tangentially or not at all to the actual assassination. As a result, the pertinent facts drowned in a contrived whirlpool of suspicious but not necessarily related activity.
But who was REALLY involved? 
Rodney Stich's book 'Defrauding America' tells of a deep-cover CIA officer assigned to a counter-intelligence unit, code-named Pegasus.  This unit had tape-recordings of plans to assassinate Kennedy from a tap on the phone of J. Edgar Hoover.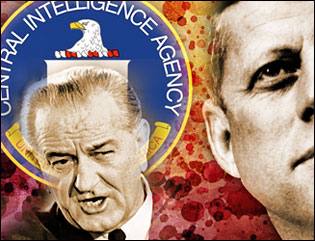 The people on the tapes were [Nelson] Rockefeller, Allen Dulles, [Lyndon] Johnson of Texas, George H. W. Bush, and J. Edgar Hoover.
According to Stich's source, there were conversations between Rockefeller, [J. Edgar] Hoover, where Rockefeller asks, "Are we going to have any problems?"  
And he said, "No, we aren't going to have any problems.  I checked with Dulles. If they do their job we'll do our job."  
[Makow comment-  Who is "they"? CIA? Mossad? Mob?]
There are a whole bunch of tapes because Hoover didn't realize that his phone had been tapped.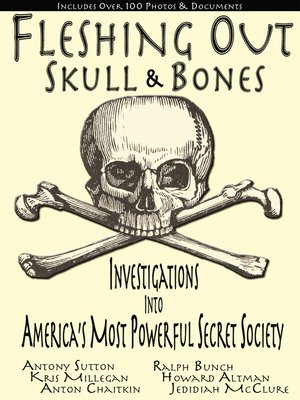 The inner core of the conspiracy is bound tightly together by oaths of secrecy and affiliations with various secret societies allied with various
Nazis groups, mind control operations, and business ventures. Much of the operational apparatus used in the conspiracy lay hidden in the shadowy world of ultra-secret national security state entities such as Division Five of the FBI, the Defense Industrial Security Command and double/triple agents of various allegiances.
The Torbitt Document and [Dick Russell's] The Man Who Knew Too Much 
detail the working of this actual framework. Agents from psi bureaus, future narcs, ultra-right-wingers, and doubles and dead ringers, politicians, spies, cops all fall into the mix.
—
Thanks to M for the tip! 
First Comment from M
I think Piper got it absolutely right.  The comments in Milligan's book do not leave out the Mossad and Apostate Israel as being the head honchos, movers and shakers in JFK's death.  They simply reveal the collusion of some of the other interested and interrelated parties, in the lower echelons of that conspiracy.  We know that America was led by Communist forces during WWII, from the very White House on down.
 According to Curtis B. Dall, in "FDR, My Exploited Father in Law," the Commies were set up in and operating out of the White House right along with Franklin and Eleanor; we know that Wilson was controlled and managed by these Internationalists in his time.  The American Bankers who bankrolled the Bolsheviks and the Nazis worked out of their offices on Wall Street.  Didn't Trotsky, aka, Lev Bronstein, come from the Lower East Side, NYC?  Communism is a capitalist venture of the ultra-rich to enslave the masses, dispossess them of their properties and resources, which all become the property of "the state" and these, the ultra-rich, are that state.
See Des Griffin's "Fourth Reich of the Rich." 
=================
===============
Related:
Comment: US-Israeli relations during the Kennedy administration were practically expunged from the official record following his assassination in November 1963. Given what was being quietly fought over – Israel's acquisition of nukes, and Kennedy's determined efforts to prevent the gerrymandered statelet from getting them – it's unsurprising that it has taken over half a century for the picture to emerge in the mainstream media…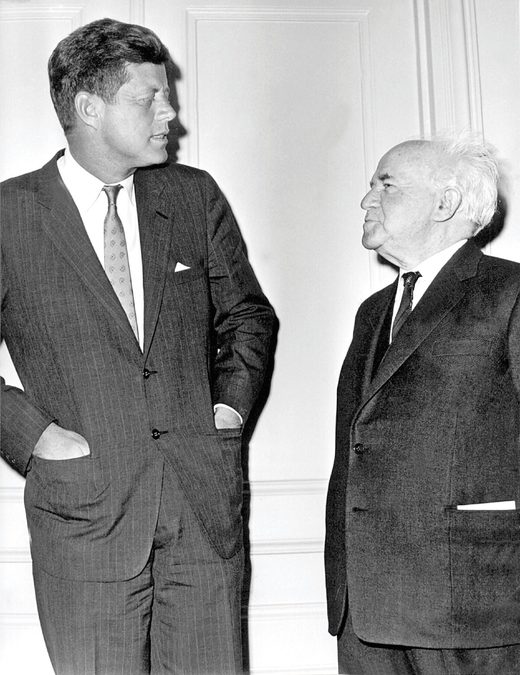 Throughout the spring and summer of 1963, the leaders of the United States and Israel – President John F. Kennedy and Prime Ministers David Ben-Gurion and Levi Eshkol – were engaged in a high-stakes battle of wills over Israel's nuclear program. The tensions were invisible to the publics of both countries, and only a few senior officials, on both sides of the ocean, were aware of the severity of the situation.
In Israel, those in the know saw the situation as a real crisis, as a former high-level science adviser, Prof. Yuval Ne'eman, told one of us (Avner Cohen) 25 years ago. Ne'eman recalled that Eshkol, Ben-Gurion's successor, and his associates saw Kennedy as presenting Israel with a real ultimatum. There was even one senior Israeli official, Ne'eman told me, the former Israel Air Force commander Maj. Gen. (res.) Dan Tolkowsky, who seriously entertained the fear that Kennedy might send U.S. airborne troops to Dimona, the home of Israel's nuclear complex.
What was at stake was the future of Israel's nuclear program. Kennedy, with an exceptionally strong commitment to nuclear nonproliferation, was determined to do all he could to prevent Israel from producing nuclear weapons. Ben-Gurion (and later Eshkol) were equally determined to complete the Dimona project. For them, nuclear capability was an indispensable insurance policy against existential threats to Israel. The exchange between the American president and the two prime ministers illustrates both Kennedy's tenacity and the Israeli leaders' recalcitrance.
Earlier this week, we published – on the website of the National Security Archive – a collection of nearly 50 American documents from U.S. archives that illuminate for the first time the full scope of this secret American-Israeli confrontation. The collection includes not only the entire exchange of messages between the leaders – Kennedy, Ben-Gurion and Eshkol – but also many related American documents, some of which were declassified and became available only in recent months.
These include a full report of the U.S. inspectors who visited Dimona in 1964; memos in which senior White House officials deliberated how to deal with the prime minister; and intelligence assessments that had analyzed whether Israel's nuclear reactor was, as the Israelis insisted, really meant for peaceful use.
Kennedy, Nonproliferation and Israel
More than any other country, it was his dealings with Israel that impressed upon President Kennedy both the complexity and the difficulty of halting nuclear proliferation.
In the fall of 1960, not long after Kennedy's election, the outgoing Eisenhower administration first became aware of the Dimona reactor that Israel and France had begun building in secret during 1958.
============
Source:   https://www.sott.net/article/426371-Declassified-after-56-years-JFK-was-engaged-in-existential-battle-with-Israel-over-its-nuclear-weapons-program