A picture says a thousand words ..

Alexander Downer signing over Australian Uranium to Russian & The Rosatom Uranium Company.

8/


In August 2018, 

@ScottMorrisonMP

pulled the trigger and banned 

#Huawei

 from Australian NBN 5G networks due to "security concerns
10/

This article outlines the current investigations involving 
#Huawei
and their involvement with fraud, stolen secrets and obstruction of justice.👇
This stuff is BIG.
I would say this can of worms is going to grow.
It's ALL connected.
#QAnon
=======
-Why did Downer say back in 2012, the claims of Huawei being involved in "Cyber Warfare" were "absurd"?-Why did he downplay allegations earlier in 2018 and say "China is not Russia"?-Why was he asking Papadopoulos about what Trump would do to Huawei?
#GreatAwakening
12/

DAMAGE CONTROL!Downer has known for years that 
#Huawei
 are crooked.Only a crooked organisation would appoint Alexander Downer as a board member.What were they planning?Tick Tock [Huawei] [Alexander Downer] [JulieBishop]
#QAnon
#GreatAwakening
#WWG1WGA
13/
Ask yourself the following questions:
14/

-Why have two Former Australian Foreign Affairs Ministers been insisted on donating MILLIONS of taxpayer dollars to the crooked Clinton Foundation?
👇
-Why does Aus DFAT have a history of covering up pedophilia?
👇
#QAnon
15/

-Why is it that the two Foreign Affairs ministers who have donated the most money and given the most foreign aid to the Clinton Foundation are both connected to Chinese telecoms company 
#Huawei
who are now being investigated for Fraud and Espionage?
#QAnon
#GreatAwakening
16/

-Why does Julie Bishop love showing off her red shoes?-Why Does Alexander Downer love wearing fishnet stockings?-Same sick cult as their friends, the Clinton's, Podesta's and the Deep State in The US?
#QAnon
#GreatAwakening
#WWG1WGA
20/
The fall of the deep state in the US will cause a chain reaction fall of the deep state in Australia.
#FISA brings the house down… worldwide!
mentions 25/
Former Victorian premier John Brumby has resigned from the board of Chinese technology firm Huawei just three days after the US announced it would prosecute the company on a litany of charges including fraud and stealing trade secrets. https://www.abc.net.au/news/2019-02-01/former-victorian-premier-john-brumby-resigns-from-huawei-board/10772144 …

Former Victorian premier John Brumby resigns from Huawei board

Former Victorian premier resigns from the board of the Chinese technology firm three days after the US announced it would prosecute the company.

abc.net.au
See J McDee's other Tweets
27/
Thanks for this epic video @occulturalism.
The relevance of #Huawei among all this will surely become evident as more info comes out. Needless to say, something BIG is brewing between China and USA.
#WWG1WGA #QAnon#GreatAwakening
Please read much more here:
https://wakeupthesheep.com/the-australian-government-and-the-deep-state-connection/?fbclid=IwAR2bn35ObGdnn4a4Aet1mD_K_sT4MYWrN71M0lHqsxXXjTi1L0cyRIoPGJk
==============
Related:
Clinton, Gillard, Shorten using $460m of our money to kill off Australian coal industry
The facts behind Aboriginal recognition and Clinton's insidious influence over indigenous land owners claiming 60 per cent of Australian land area.
The Australian taxpayer shovelled at least $88 million into the Clinton Foundation and associated entities from 2006 to 2014, reaching a peak of $10.3 million in 2012-13, Gillard's last year in office.
On the Clinton Foundation website, AusAID and the Commonwealth of Australia score separate entries in the $10 million-plus group of donors, one rung up from American teacher unions.
In 2009-10 Kevin Rudd handed over another $10 million to the foundation for climate research, part of $300 million he squandered on a Global Carbon Capture and Storage Institute.
Gillard also donated $300 million of our money to the Clinton-affiliated Global Partnership for Education.
Read more here:
Clinton, Gillard, Shorten using $460m of our money to kill off Australian coal industry
===========
Related:
Dangerous act of intimidation': AFP raid home of News Corp journalist
Police have raided the home of a News Corp journalist in what the media company has called a "dangerous act of intimidation" after she reported on a top secret government proposal to give Australia's cyber spies unprecedented powers.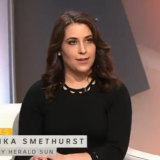 Australian Federal Police officers presented Annika Smethurst, the national political editor of News Corp's Sunday tabloids, with a search warrant on Tuesday morning.
The warrant granted officers authority to access her home, computer and mobile phone.
The actions are in connection to a story published in April 2018 which revealed internal government discussions about introducing new powers for electronic intelligence agency the Australian Signals Directorate.
News Corp's report included details from a top secret internal document proposing new abilities to "proactively disrupt and covertly remove" onshore threats by "hacking into critical ­infrastructure".
The federal police confirmed the execution of a search warrant on Tuesday as part of an "investigation into the alleged unauthorised disclosure of national security information".
In a statement, the police said they would allege the disclosure of "these specific documents undermines Australia's national security".
"No arrests are expected today as a result of this activity," the statement said.
Read further here:
https://www.smh.com.au/politics/federal/afp-raid-home-of-news-corp-journalist-over-national-security-reporting-20190604-p51ub0.html
============