Bywa czasem tak, że podróże kształcą. Nie zawsze i nie wszystkich, ale nawet w miasteczku, które widziało się już 1000 razy, można odnaleźć coś absolutnie niezwykłego – polskiego Teslę, naukowca Juliana Ochorowicza.
Dlaczego porównuję go do Tesli?
Bo Julian Ochorowicz także wyprzedził kilku wynalazców, lecz to im, nie jemu, dostały się laury i tytuły własności, do tego, co skonstruował i pokazał światu nasz rodak.
Poza tym, tak jak Tesla, totalnie wyprzedził swą epokę; rozumiał energię, czuł silnie, że istnieją inne światy i wymiary i zgłębiał je na swój sposób.
No i wreszcie jak on, umarł niedoceniony.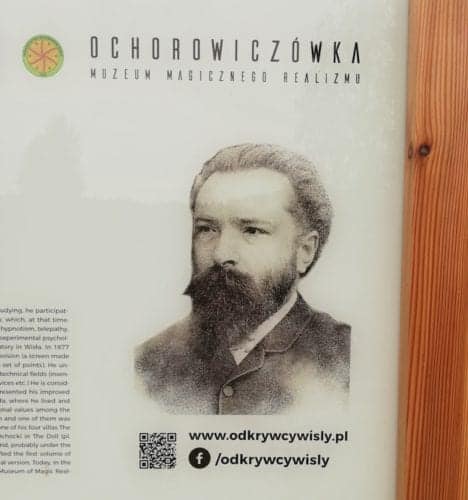 Julian Ochorowicz – podróżnik w czasie, niezwykła Istota, wyprzedzającą epokę i energię, w której przyszło mu żyć
Dusza, telefon, gramofon i telewizor
Julian Ochorowicz zaczął swą karierę zapomnianego, celowo pominiętego, a nawet szkalowanego później geniusza, pierwszą nagrodą za rozprawę o naturze duszy w konkursie Uniwersytetu Warszawskiego. Miał wtedy 18 lat.
We Lwowie, jako doktor habilitowany dawał oblegane i uwielbiane wykłady z psychologii. Robił to za darmo, a po pracy eksperymentował w laboratorium z elektrycznością i elektromagnetyzmem.
Już tam na tyle kłuł w oczy swą niezwykłością, że nie otrzymał zasłużonej profesury.
Rozczarowany przeniósł się zatem do Paryża i tam uskutecznił parę wynalazków, z obszaru, który najbardziej go fascynował, czyli przesyłania informacji na odległość.
Najpierw wymyślił swoją wersję telefonu, którą zaprezentował podczas Światowej Wystawy w Paryżu, gdzie transmitowano przez aparat Ochorowicza, bardzo głośno i dokładnie koncerty Opery Paryskiej. Udoskonalony model na podstawie kulejącej w owym czasie konstrukcji Bella, był popularny w Europie (produkowała go firma Paul Barbier). Mimo to cała sława przypadła Bellowi, który później telefon opatentował…

Jakimś cudem w naszym kraju zachował się oryginał telefonu skonstruowanego przez polskiego Teslę – Juliana Ochorowicza
Potem wynalazł fonograf – urządzenie do zapisu i odtwarzania dźwięku, który 6 lat później uznano za wynalazek, opłacanego przez korpo-giganta Western Union, Edisona…
Następnie wynalazł termomikroskop, za który otrzymał dyplom honorowy (chociaż tyle…)
Jeszcze potem wynalazł pra-pra-telewizor, nazywając urządzenie do przesyłania obrazów "telefotoskopem" albo "telefotonem". Pracował także nad kolorową fotografią.
Jak wiemy, żaden z tych wynalazków nie jest w ogóle łączony z jego nazwiskiem.
A to nie wszystko…
W 1911 r. Ochorowicz opublikował własny model układu okresowego pierwiastków. Napisał także pierwszy akademicki podręcznik psychologii, a także wiele innych książek. Ostatnią z nich poświęcił z kolei programowi "odnowy narodu" – ożywienia ducha i moralności Polaków.
Julian Ochorowicz oprócz wszystkich wynalazków pragnął także leczyć. I zabrał się za to na kilka sposobów – konstruując hipnoskop, budując secesyjne uzdrowisko w Wiśle oraz badając zjawisko mediumizmu.
============
https://jasnapolska.pl/czy-znasz-polskiego-tesle-julian-ochorowicz-zapomniany-wynalazca-telefonu-telewizji-para-psycholog-czlowiek-renesansu-badacz-nieznanego/?fbclid=IwAR1l_CqJuX3wMyB_qWtdPkfCSNX4fwVnj05-vAeLYbEoBBRJpLXe6gDiKpE