Anglojęzyczna Wikipedia usuwa wzmianki o żydowskim pochodzeniu nazistowskich kolaborantów
23 maja 2019
Jeden z administratorów anglojęzycznej Wikipedii edytuje hasła dotyczące Żydów, którzy kolaborowali z Niemcami w czasie II wojny światowej, zmieniając ich narodowość. Dotyczy to również polskich Żydów, którzy obecnie figurują na Wikipedii jako Polacy.
Zmiany wprowadza administrator Wikipedii o pseudonimie Jayjg, który dołączył do jej zespołu w 2004 roku i jest jednym z jego najaktywniejszych członków. Przyczynił się m.in. do wprowadzenia ponad 127 tys. zmian na Wikipedii. W lutym br. powrócił do swojej aktywności po ponad półrocznej przerwie. Od tamtej pory wprowadził zmiany w ponad 5 tys. haseł.
Uwagę części użytkowników zwróciło to, że zaczął zmieniać informacje na temat narodowości hitlerowskich kolaborantów, w tym pochodzenia żydowskiego. Dotyczyło to m.in. Chaima Rumkowskiego, polskiego Żyda z Łodzi, który po zmianach na anglojęzycznej Wikipedii figuruje jako Polak.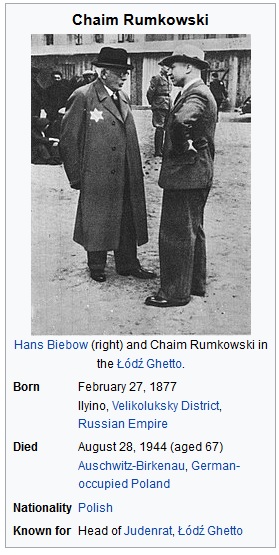 Korzystając z możliwości prześledzenia jego działalności zauważono, że Jayjg stal się bardzo aktywny na przełomie kwietnia i maja br. Część wprowadzonych przez niego wówczas zmian dotyczyła modyfikacji narodowości postaci historycznych, w tym wielu osób pochodzenia żydowskiego, które w czasie Holokaustu kolaborowały z nazistowskimi Niemcami.
Przeczytaj: Dziennikarz Deutsche Welle: Polska tworzyła kolaborantów jak żaden inny kraj w Europie
Samego 1 maja tego roku Jayjg zmienił narodowość czterech tego typu postaci, usuwając z ich profili wzmiankę o tym, że mają pochodzenie żydowskie, która pojawiała się w podsumowaniu informacji o danych postaciach i dzięki której można było za pomocą tzw. kategorii wyszukać te osoby w encyklopedii.
Pierwszą zmianę wprowadził w haśle dotyczącym Stelli Kübler, Niemki pochodzenia żydowskiego, która działała w siatce zawodowych szmalcowników, czyli osób, które szantażowały lub wymuszały okup od Żydów ukrywających się przed Gestapo. Jak informuje TVP Info, Jayjg całkowicie usunął widoczną dotychczas na jej profilu narodowość żydowską, zastępując ją niemiecką.
Podobne zmiany miały miejsce w przypadku dwóch Żydów narodowości polskiej, wspomnianego wcześniej Rumkowskiego, a także Mojżesza (Moshe) Merina. Obaj uważali, że współpraca z Niemcami to jedyna droga przetrwania zagłady i tylko dzięki byciu użytecznym dla nazistów oraz pracy na rzecz okupanta i bezwzględnemu posłuszeństwu są w stanie ocalić siebie i innych. Powszechnie ocenia się ich krytycznie i uważa za kolaborantów. Jednak w ich hasłach na Wikipedii usunięto informację, że byli polskimi Żydami, zastępując ją określeniem ich narodowości jako Polaków.
Zmiany wprowadzane przez Jayjga nie dotyczą tylko polskich Żydów. W haśle na temat Ans van Dijk, holenderskiej Żydówki, która zdradziła Żydów w Niemczech jedyna holenderska kobieta została stracona za działalność wojenną, wspomniany administrator usunął informację, że była Żydówką i wpisał narodowość holenderską.
Ponadto, Jayjg częściowo usunął z sekcji "zobacz także" notatki o Rumkowskim odnośniki do innych haseł dotyczących dotyczących Żydów różnych narodowości kolaborujących z niemieckimi nazistami. Ponadto, w ostatnim czasie wprowadzał też szereg edycji modyfikujących kategorię, do której przypisano postacie. Zmienił np. kategorię "Polish Jewish" na "Polish Jews", a "Hungarian Jewish" na "Hungarian Jews".
Czytaj także: Hitlerowski kolaborant zostanie błogosławionym? Kontrowersje wokół beatyfikacji metropolity Szeptyckiego
Twitter.com / tvp.info / Kresy.pl
===============
Źródło:    https://kresy.pl/wydarzenia/anglojezyczna-wikipedia-usuwa-wzmianki-o-zydowskim-pochodzeniu-nazistowskich-kolaborantow/?fbclid=IwAR1YFn1SAV1PZLqG5cv0SzLJGgG6EybQFuA35u9DSD3KXAxBcRBY5puB2q8